NetballProshop is an online store so we don't have a show room as such. This helps keep the prices lower for our customers. Much effort has been put in to making the pictures and color samples as accurate as possible so everyone can purchase online.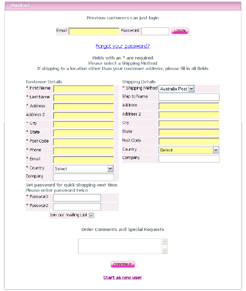 No longer do you have to manually fill in a order form. Using our website, your order form is automatically filled and totalled, with products being requested with a click of the button. You can then chose to submit your form via the internet to settle your payment online or submit via mail or fax to pay via direct deposit, cheque or cash.
Step by Step Instructions on how to use the websites automated online order form
For a full description of delivery times and methods click on the shipping policy link.
Full payment is required on placement of order. Payment methods accepted are Visa, Mastercard, Bankcard, direct deposit, cheque or cash.
Cheque or cash payments should be sent via mail and should be enclosed with a print out of the completed online order form. Direct deposit payments can be arranged by contacting Netball Proshop via telephone to receive payment instructions.
If you are uncomfortable using the websites online ordering form or need assistance with the process, please contact us so we can organise alternative means. Please supply your contact details and address, so we can adequately determine the appropriate shipping and order costs.